I've had the same scratched up coffee table for about 20 years. I know, it's kind of like the plumber's wife with the leaky faucet. I've pretty much known what I wanted for some time, but there was no way I could afford this: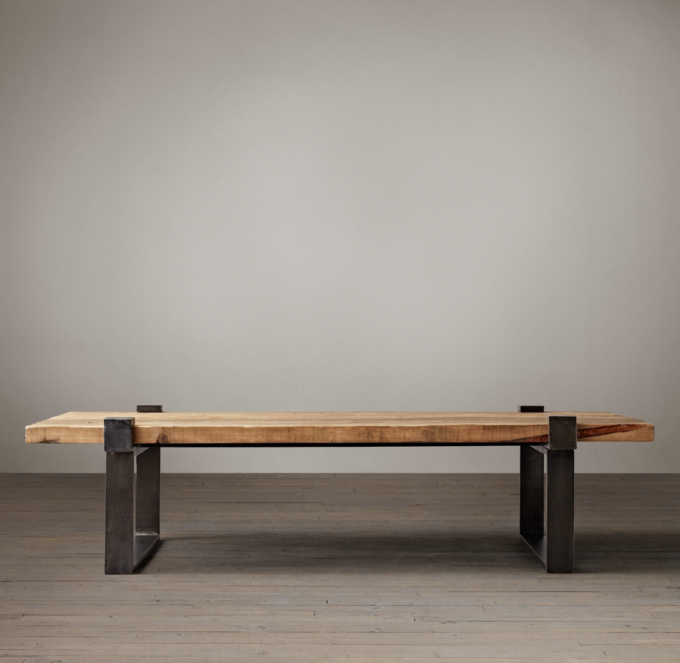 So, to the rescue comes my awesome, wonderful, talented husband. It started with a pine tree he sawed down three years ago, then his brother sawed it into boards on his sawmill, and planed the boards. We bought about $80 worth of 3" wide steel, some lag bolts, spray paint and stain. My husband calculated, dreamed, calculated some more and then started in. Here is the wood and steel in the beginning stages:
I love the knots and bluing in the wood. My brother-in-law planed the wood for us a second time because it was still too thick to run through the table saw. My husband then sawed them to length, doweled and glued the boards, draw planed, ground and sanded the top until it was as smooth as a baby's butt. Then he measured, re-measured, cut and welded the steel base. We tested out four different colors on a piece of the leftover wood. This is always a good idea because our first idea, Jacobean ended up almost black on the pine. We ended up with English Chestnut by Minwax, it's a good combination of brown and red.
He cleaned up and spray painted the base a black satin. There are 6 lag bolts holding the top & base together so that they can be taken apart and moved. This baby is HEAVY, I'm guessing 80 to 100 pounds. So finally enough talk, here it is...
I really do like ours better than Restoration Hardware's, the wood is thicker, and the base a little less bulky. Plus this was made literally from scratch by my wonderful, awesome, talented husband.
I'll be linking up at: